Types of Checking Accounts
In the Banking lesson, we reviewed some basic types of bank accounts. To start this lesson, we will review the more common types of checking accounts. It should be noted, however, that account features are not standardized, so each bank may offer different account types.
Free Checking – Many banks still offer a free checking account option. This is best if you do not expect to have large amounts on deposit with the bank or do not expect to have a significant number of monthly transactions. Some banks will also offer free checking accounts if you will receive direct deposits each month.
Regular Checking – A regular or standard checking account will often allow an unlimited number of transactions each month, including transactions made at the teller. However, there is often a monthly maintenance fee. The fee is usually waived if you can maintain a minimum balance in the account.
Interest Checking – A checking account that pays interest is usually reserved for customers who will maintain high balances on deposit with the bank. Included in interest checking accounts is a Money Market Account which is a hybrid of a savings account and checking account.
Within the checking account, banks also offer a variety of other features which may not be available with all types of checking accounts. Common features include:
Online bill pay which allows you to log into the bank's website, view your account transactions online, and pay your bills. Online bill pay is a great feature because it can save you the cost of postage to mail checks or save the trip to deliver checks in-person.
Mobile banking which allows you to pay bills, deposit checks and transfer money between accounts from the convenience of your mobile device.
ATM debit card which can be used to access funds on deposit at the ATM and make purchases at stores.
Free checks which may be offered by the bank with some types of checking accounts.
Images of canceled checks may be returned to you or included on your bank statement. This is a valuable feature because you can go back and see checks you have written if you forgot to record a transaction.
Opening A Checking Account
As with borrowing, you should compare account types and features with several banks before choosing where to open an account. Other factors that should be considered include whether you need to also have a branch in other areas if you travel frequently, where the bank's ATM card is accepted, including for cash withdrawals, and bank lobby and drive-through hours.
Once you have selected a bank, you will want to gather some basic information and materials before you sit down with the customer service representative.
Government-issued photo identification, such as a drivers license.
Social Security Card.
Proof of your residence address.
Initial deposit.
The bank representative will verify your identity and review your checking account history. The bank may also want to review your credit report to assess your credit history. Once the account is ready to be opened, the representative will have you sign the opening account documents, including a signature card. The bank will use the signature card to verify your signature on checks and other documents presented to the bank for payment. The signature card will contain the signature of everyone authorized to write checks on the account. With modern technology, signatures may not be collected electronically. Signature cards date back to the days before computer technology!
If the bank determines that you are not eligible for a checking account because you have negative history, you should ask about a "second chance" account. Some banks offer these accounts in an effort to help you rebuild positive checking account history, and if you are extended a second chance, be careful not to abuse it! Second chance accounts are not likely to have all the features of other checking account types. For example, the account might not allow for ATM transactions or mobile deposits, overdraft protection, or even a debit card. Other requirements could include a minimum opening deposit.
Using Your Checking Account
he two main topics we will discuss in this section are depositing and withdrawing money. To deposit money into your bank account, the bank will need a way to match the money to your account. The most common method is with a deposit slip. Along with your name, the deposit slip will have your account number and a routing number, which is a unique identifier for your bank.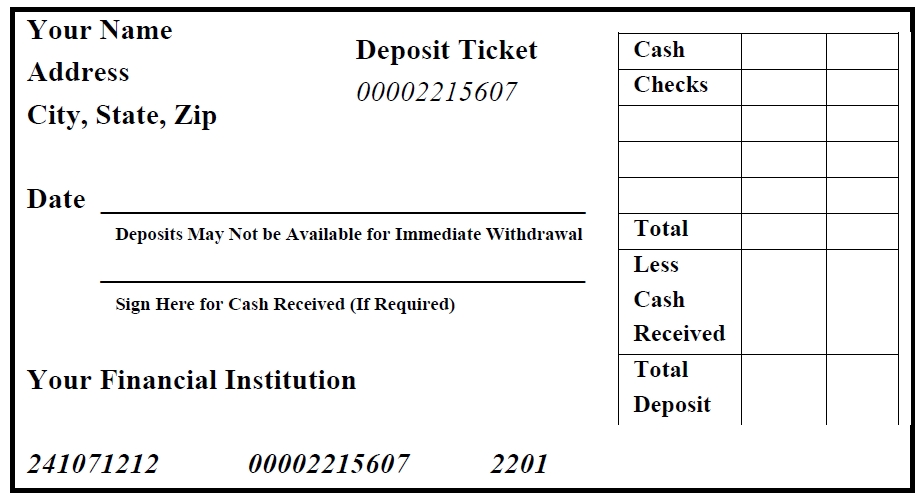 On the right side of the sample deposit slip, there is space to list the amount of cash and each check which you are depositing. If you have more checks than there is space on the front of the deposit slip, you can list the checks on the back side of the deposit slip.
When making a deposit, you can either deposit all of the money listed on the deposit slip, or request cash back if you need the cash. If you request cash back, be prepared to show your photo identification to the teller to confirm that you are the account holder. Don't be offended by this! No one wants an unscrupulous person trying to get money out of your account.
For each check, you will need to either sign on the back side of the check or write on the back side "for deposit only." Your signature is necessary as part of negotiating the check.
Once you make the deposit, be sure to write the amount and date in your check register, which we will discuss a little later. From time to time, the bank may impose a waiting period before you can withdraw deposited funds. Hold periods may be imposed based on dollar amounts, such as checks over $5,000. This waiting period is an effort to protect both you and the bank in the event the check is returned for insufficient funds.
A not so fun experience is receiving a letter from the bank indicating that a check you deposited was returned for insufficient funds. Unfortunately, this does happen from time to time, either because someone gives you a check that never had any money behind it (which could be fraudulent or a crime) or simple oversight by forgetting to update the check register and not keeping track of the checking account balance.
The bank will automatically take the funds from your account. If you have taken cash from the deposit and there is not enough on deposit in your account, you may have to bring cash back to the bank to make everything right. Once you are in good standing with your bank, you can then deal with the person or company who gave you the check. Your bank may also charge you a fee.
Best practice is to simply contact the person or company, inform them about the returned check, and request a replacement check, money order/cashier's check, or cash. In some instances, you may be able to have the other person or company pay for the fee your bank charged you.
You should plan to deposit checks given to you as soon as possible. Checks are deemed to be "stale" or canceled six months after originally written, however, some checks become stale earlier. You will know this because the check will have a notice indicating that the check must be presented for payment within a certain number of days, such as 90 days.
You can withdraw money from your checking account in two primary ways, which are by writing a check and by using your ATM/debit card. A check is a contract between you and the bank. When you write a check and deliver it to another person or to pay a bill, you are requesting that the bank deliver cash from your checking account and transfer that cash to the person or company. Because it is a contract, you must be careful to only write checks that you intend to be cashed by the recipient and that will actually be funded.
Writing a check when there is not enough money in your account to cover it could be treated as a crime and will certainly raise questions on the bank's part about your ability to handle a checking account.
Because checks will draw money from your bank account, you must take steps to keep your checks secure. Writing checks on someone else's account is also a crime because it is a form of theft. The bank is not required to replace funds that were stolen from your account. In many cases, the money must be replaced by the person who stole the funds, which often involves a criminal investigation and criminal court proceedings.
Like the deposit slip, when writing a check, a certain amount of information is necessary. Your account number, of course, as well as the bank's routing number. Your name and address as well as the bank's name must also appear on the check. You must write out the amount of the check, the date of the check, and you must sign the front of the check in the space provided on the bottom righthand side of the check.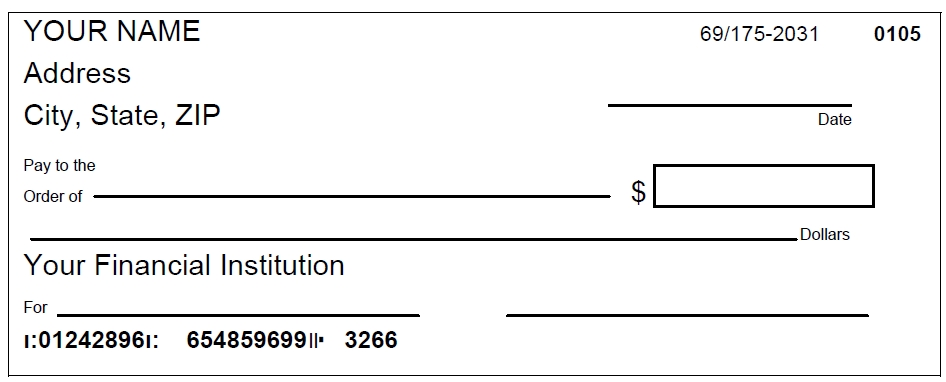 The "For" next to the blank line on the bottom lefthand side of the check is only for your records and is not essential. This is where you can make a note about the purpose of the check.
Four important things to remember are (1) to always complete the "pay to the order of" line, (2) to always complete the amount, (3) checks can be stolen and honored by the bank, and (4) checks go "stale" after 6 months. You should never sign a check in blank and give it to another person. Always complete the check before delivering it to the recipient. The recipient could fill in blanks against your intentions, and the bank would honor it. Likewise, stolen checks that are used for payment can legally be honored by the bank, so safeguard your checks! If you believe checks were stolen, notify the bank immediately.
The date you use on the check should be the day the check is written. Some people try to post-date a check, which is to use a date in the future. Neither the bank nor the recipient are obligated to honor the future date. Checks are valid as of the date they are delivered. If you write a check and you know that there is not enough money to make the check good, best practice is to wait to deliver the check until you have verified that your account has sufficient funds for the check to be paid from your account. After 6 months, if the check has not been cashed or deposited, the check is usually "stale," which means the bank is no longer required to honor it.
If your checking account includes a debit card, you can use the card at both an Automated Teller Machine (ATM) to withdraw cash from your account or a retail store to purchase items. Debit cards come in two main forms. Some debit cards are true debit cards which always require a PIN to be used when making purchases and withdrawing cash. This type of debit card can only be used at retail stores that accept debit cards. If a store only accepts credit cards, the debit card will not work. Other debit cards also act as a credit card and can be used without a PIN when making purchases. Instead of a PIN, credit card purchases require your signature.
The debit card is linked to your checking account, and every cash withdrawal or purchase comes directly from your bank account. While your cash withdrawal or purchase may be declined if there is not enough money in your account, in other instances a purchase transaction may be approved even if you have insufficient funds to cover the purchase. This will result in overdrawing your account, which requires a deposit to bring your account into good standing. The bank may also charge a fee for overdrawing your account.
Banks may offer overdraft protection to ensure checks and debit card transactions will be honored if your account balance is insufficient. Overdraft protection is optional, and for a first-time account holder, overdraft protection should probably be declined. Best practice is to keep track of your checking account transactions and avoid overdrawing your account.
In our world with modern technology, you should be aware that theft of debit and credit card numbers is possible. Such theft can occur even if you never give your card number to anyone else or if your card is never lost or stolen. An example of this type of theft is skimming, which involves placing a card reader on the device where you insert the card to make a transaction. Hackers can also steal debit and credit card information from retail stores.
In general, banks will not replace the first $50 of stolen funds but will replace the amount over $50 of funds stemming from a fraudulent debit card transaction if the transaction cannot be resolved within 10 business days. To receive the benefit of this protection, you must report the transaction within 2 days of your becoming aware of the item. It is good practice to log into online banking throughout the month to monitor your bank transactions and to review your monthly account statement.
When your debit card is used as a credit card to make purchases, you do not have to pay disputed transactions while the bank investigates the matter. Under federal law, your losses are limited to $50 if your card is lost or stolen. Again, it is best practice to monitor your bank account transactions and to safeguard your debit card from theft.
Electronic Banking
Modern technology affords us the convenience of online banking and apps for your mobile device. You should request access to online banking when opening your account or speak with a customer service representative if you want to add online banking later. Online banking allows you to pay bills, transfer money between accounts at the bank or with designated accounts at other banks, and view account transactions. Paying bills online involves adding the check recipient, their address and any account number and then completing the amount and date. Once the bill payment is submitted, this serves as instructions to the bank to deliver a check on your behalf.
An online bill pay check will be written and signed by a bank representative and mailed to the recipient on your behalf. When you use online bill pay, you do get to save postage or a trip to the recipient's location!
Mobile apps have many of the same features as online banking, plus you may be able to deposit checks from your mobile device. The app will provide instructions on how to deposit checks. You should keep the original check for at least 90 days, but do not take the check to the bank or deposit it into your account at a bank branch unless the bank requests that you bring the check to the bank branch.
Keeping Track of Account Transactions
Each time you deposit money into your account or withdraw money from your account, best practice is to keep an accurate record of those transactions. The bank may give you a booklet known as a check register. The check register will have columns and rows for you to write the following:
Starting balance
Date of the transaction
Check number
Description of the transaction (name of store or ATM withdrawal)
Amount of the transaction
New Balance
Memo line for writing the purpose of the transaction (i.e., utility payment, cash for dinner, groceries, etc.)
You are not required to use the check register provided. There are a variety of methods to keep a check register, including a computer spreadsheet, app on your mobile device, or computer software. The purpose of all these methods is the same – keep an accurate list of transactions in your account.
Activity
Complete the next entry in the check register for a birthday gift from Grandma Smith you received on 3/1 for $42.44.

Your check register should be the primary source of your current bank account balance. If you write checks on your account, the recipient may not cash the check immediately. However, the money is spoken for and should be considered as already deducted from your account balance. This does mean your actual bank account balance will sometimes be different from your check register balance. Hopefully now you can appreciate the importance of keeping an accurate check register.
Then, when you receive your monthly bank account statement, best practice is to reconcile or match up your check register to the bank statement. There will not be an example of reconciling in this lesson because the bank provides a helpful explanation on the account statement.
Reconciling your check register simply means that you are confirming all of the transactions that actually occurred as printed on the bank statement are also in your check register. Reconciling provides you an opportunity to catch checks that were never cashed by the recipient, which may need to be resolved, or to identify any inaccurate or potentially fraudulent activity in your bank account.
Remember, there are short time limits on disputing transactions in your bank account, so best practice is to reconcile your bank account as soon as the monthly bank statement is available.
---
You will not have a lesson quiz. Instead, your graded project is to open a checking account at the bank of your choice. If you already have a checking account, open a savings account.